Whats the Deal?
We have 2 amazing gifts to automatically add to your order depending on how much you spend. This is a limited stock offer and will be on a first come first served basis, while stocks last. This offer is exclusive to BEAUTY SKINCARE Dermalogica customers.
Gift 1: Spend €100+ and receive a FREE Power Duo worth €30
Gift 2: Spend €180+ and receive a FREE Power Duo worth €65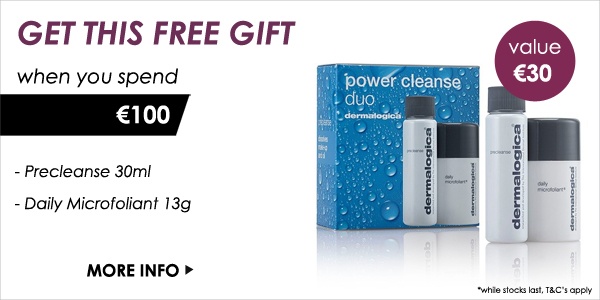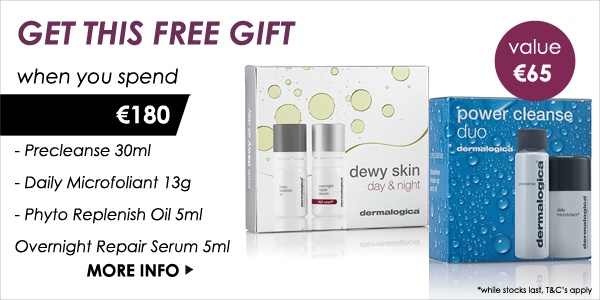 No need to add any coupon codes to the checkout. These products will automatically add to your checkout once you hit the corresponding tier. T&C's Apply. This offer is valid while stocks last.
IS YOUR SKIN FEELING DRY, TIGHT AND FLAKY THIS WINTER?
Not only can the harsher climate make our mood blue, but it can also play havoc with our skin.
Cool winter temperatures and low humidity levels combined with hot showers can pull moisture from the skin. On the surface, skin looks dull, feels tight and dry, and fine lines are more pronounced. At a microscopic level, a lack of moisture and oil weakens our skin's natural protective barrier, leaving it susceptible to redness, irritation and sensitivity. And if we don't do our part in repairing and protecting our skin's barrier, we may show the signs of ageing earlier than we'd like.
Just as we need an extra layer or two of clothing during the cooler months, our skin also benefits from extra layers of moisture. Layering a hydrating booster, a peptide serum or a facial oil onto the skin is a great way to nourish and top up your moisture levels, navigating your skin successfully through the winter season.
UNLOCKING THE POWER OF OILS
Skin loves and responds brilliantly to facial oils; smoothing the texture, softening fine lines, protecting and nourishing the skin and creating a radiant, healthy glow.
Most people enjoy using today's innovative facial oils and serums due to their fast absorbency and feather light texture. Rule of thumb: the drier the skin, the greater the need for oils, which is why winter is prime time to gift your skin with an oil based serum.
Let's talk about Dermalogica's two DEWlightful oils…Phyto Replenish Oil and Overnight Repair Serum…
Now is the perfect time to introduce your skin to Phyto Replenish Oil and the AGE Smart® Overnight Repair Serum for an around the clock dewy glow. Together, this power duo will help seal in critical moisture, whilst protecting against premature ageing caused by a harsher climate.
1) PHYTO REPLENISH OIL
Skin loves and responds brilliantly to facial oils; smoothing the texture, softening fine lines, protecting and nourishing the skin and creating a radiant, healthy glow.
A) HOW IT WORKS
Phyto Replenish Oil operates in three phases: to strengthen, hydrate and shield for healthy, hydrated, dewy skin.
B) KEY INGREDIENTS
Camellia Japonica Seed Oil and Tamanu Oil work together to reinforce the skin's protective barrier and relieve skin redness.
Chia Seed Oil, Orchid Flower Extract and a Hyaluronic Acid booster dramatically hydrate the skin, helping smooth visible fine lines and leaving skin silky smooth.
Sunflower, Rosemary and Rice Bran Extracts create a luminous antioxidant shield over the skin to protect against free radical damage and deliver a dewy glow.
C) WHO'S IT FOR?
All skins, especially dry, dehydrated, sensitive and those concerned with premature ageing skin.
D) HOW TO USE
Press 4 to 6 drops onto cleansed skin underneath your moisturiser, or if you're time poor, mix 4 to 6 drops with your moisturiser.
We love to mix 1 to 2 drops in with our primer or foundation, or even apply a few drops onto a foundation sponge to give makeup a dewy finish.
2) OVERNIGHT REPAIR SERUM
A) HOW IT WORKS
Overnight Repair Serum is a technologically advanced peptide and plant oil treatment serum that deeply nourishes skin overnight to leave you with fresh, dewy and firmer skin come morning.
B) KEY INGREDIENTS
Argan Oil and Brown Seaweed, both rich in antioxidants, protect against accelerated ageing, whilst restoring a weakened skin barrier.
Rosehip Seed Oil smoothes away fine lines and increases luminosity.
Palmitoyl tripeptide-38, an advanced peptide, stimulates two critical types of collagen and Hyaluronic Acid to boost skin strength and lock in moisture.
Sunflower Seed, Carrot Seed, Jasmine, Geranium and Neroli oil blend reinvigorate and reenergise a tired, dry, lack lustre skin.
C) WHO'S IT FOR?
Dry, dehydrated and irritated skin or skin that's lacking lustre and showing signs of ageing.
D) HOW TO USE
Smooth 3 to 6 drops onto cleansed skin, and if preferred, follow with your night time moisturiser. Alternatively, to power up your night time moisturiser, add a couple of drops of the serum to it.
We love to layer the AGE Smart® Multi-Vitamin Power Recovery Masque over the serum and leave on overnight for an intensive winter treatment.
TOP TIPS FOR DAY TO NIGHT OIL
Blend into brows and corners of nose to combat flaky patches.
Massage leftover residue into nails to soften dry, cracked cuticles.
Will help to soothe and calm skin diseases like psoriasis, eczema and atopic dermatitis (when not inflamed).
Look after your oils by keeping them out of direct sunlight!